DelSiTech is pleased to announce today the opening of a cleanroom facility of the highest standard for aseptic manufacturing of pharmaceutical products, including sterile injectables.
" The construction of our own sterile manufacturing unit marks a significant turning point in the DelSiTech story. The ability to readily manufacture drug products from our growing in-house pipeline, as well as our partners products, for evaluation in clinical trials in our purpose-built site, will allow for a more tailored approach to develop products at higher quality than currently available. Our new capability will greatly reduce our dependence on contract manufacturing services and may enable us and our partners a more rapid and affordable route to clinical studies and commercialization. DelSiTech aims to have the facility GMP certified by the end of the year" said Dr. Lasse Leino, CEO of DelSiTech.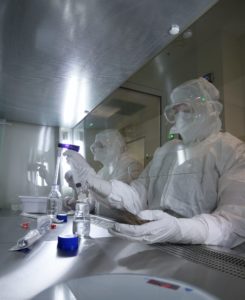 " Alongside our cleanroom development, we have significantly expanded our manufacturing team. While the focus of our new team will be manufacturing of our Silica Matrix based products which require specialized processes, what is also exciting is how these skills sets may be applied to other sterile manufacturing projects. With the upcoming certification of the site, we anticipate significant growth in contract manufacturing business, particularly with regards to specialized small-scale batches of material, which we know all too well are challenging to order in the contract manufacturing industry currently." said Dr. Leino.
The cleanroom facility is a 100m2 multifunctional space with sophisticated controls enabling aseptic manufacturing. The facility is available for contract manufacturing starting in Q3 2023. For any inquiries, please do not hesitate to reach out to us here.